High-Tech Mobile Cleaning Services
Decon7 Systems offers completely onsite gear cleaning services. Our system acts as a fully self-contained decontamination station that uses D7 solution to clean large amounts of firefighter turnout gear directly at a fire station.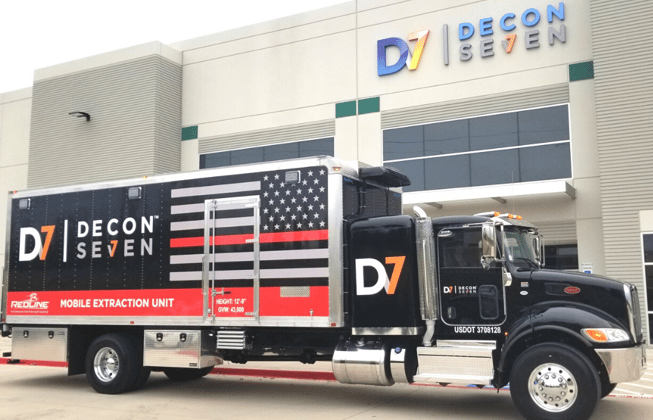 The new high-tech mobile cleaning services will leverage the power and strength of D7 solution for on-site decontamination of firefighter gear.
This 100% unique patented process is able to provide NFPA 1851 verified advanced and specialized cleanings on-site of up to 40 sets of turnout gear, including helmets, boots, hoods, gloves, self-contained breathing apparatus (SCBAs), and masks. In addition, equipment goes through a 25-point gear inspection process, and repairs can be sent out and completed via a certified NPFA1851 partner if necessary. Compared to the 2-4 week turnaround time for the alternative off-site cleaning options, this is a major time saver.

All gear is spot treated and laundered with D7 to effectively remove or inactivate heavy metals, semi-volatile organic compounds, and microorganisms to meet NFPA standards in one single process.